We are Brian McAllister and James Holland. A two man production team, writing and producing films mostly for the art of it. We pride ourselves on incorporating professional and non-professional actors and crew into our films. Our productions are non-budgeted, volunteer only productions unless stated otherwise. It is a great joy to work with actors and crew who do it for the love of film. But like they say "Money wouldn't be a bad thing either".

Brian McAllister - I've worked on, been in or around films professionally since 2006. My interests began on the movie 'The Guardian' which was one of the first of many films that were re-routed to the Shreveport Louisiana area due to the Hurricane Katrina destruction in south Louisiana, where they were originally set to film. On that film I was able to do some stand-in work for actor Ron Dean which let me work closely with director Andrew Davis and actor Kevin Costner.


Since then I've worked with quite a few local films and other box office films by filling various positions from extras, grip, AD, Director of Photography, gaffer, behind the scenes documentaries, writer, actor, producer and so on.


Now with my own small production company, I'm able to focus more on the creation side of the movie business, working on short films and enjoying what I'm doing.

James Holland - is taking a crash course in the movie business. He has recently worked on the Miley Cyrus film 'So Undercover' where he gained some production experience. James has written several scripts and does whatever he can to help make our films possible. Whether auditioning actors or being the 1st AD on a set, James tries to cover it.

We came together in Nov 2010 while a part of Better Hand Productions. We decided to take a slower approach to filmaking so that we could focus on all aspects of the movie business that we were missing. So we formed McAllister/Holland Productions in early January 2011.

We currently write and produce short films while working to negotiate full length features.

When working with our production, credit is given where credit is due. Everyone involved with our projects can use their experience as a business card by adding the finished film to his/her actors demo reel, website

Feel free to check us out on facebook as well. http://www.facebook.com/home.php#!/pages/McAllisterHolland-Productions/146620192060860

So feel free to contact us about your next project.

Thanks,

Brian McAllister and James Stephen Holland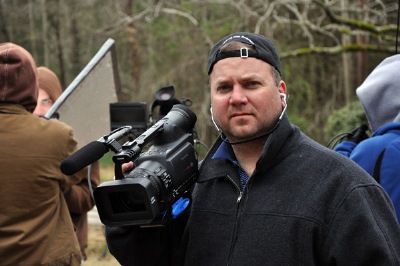 On the set of 'Stanley Debrock'. - Brian McAllister